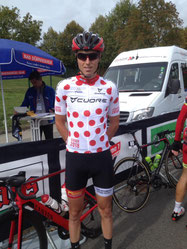 Bei dem 3 Etappen Event Rothaus Riderman standen am vergangenen Wochenende 25 Teamfahrer von uns am Start. Bei diesen drei Etappen waren insgesamt 215 Kilometer mit einigen Höhenmetern zu überwinden.
In einem kurzen Bericht beschreibt Anthony die Geschehnisse des Wochenendes: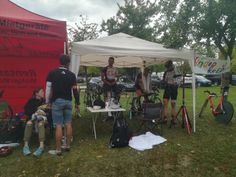 My expectations for the riderman 2018 were skyhigh. I had invested a lot of time in my Time Trial. Every ride on my TT I felt better and better. But on friday I had a lot of problems with the rain and wind. Too bad, but in an outdoor sport you can not control the elements. With the 25th place, my deception was big. With Karsten 4th, Jochen 13th and Stefan 33th the team reached secound place behind Team Strassacker.
On Saterday I didn't feel so great. My legs were sour and I could only follow the leading group. I tried to help Karsten in 2 occasions, but in the end, me and Stefan couldn't wait anymore. In the End we were both in the break and reach the 4th and 10th position. Jochen 16th and Karsten 30th completed our first team. So we reach the leadership in the team classification
On Sunday, my motivation was through the roof. Rain and wind. Belgian weather aka 'flandrienweer'. The only problem was it was headwind and Tailwind only. Just a few km of Sidewind. Too bad. On the climbs I felt great. Pushing 420-440W for 68kg on the big climb. Only 15 riders left. I tried to attack immediately again , but Valentine (BKK Mobile Oil) was on my wheel. He didn't want to help me. We could have gone in duo the finish there. Tactics are boring, just have fun Valentine next time ;).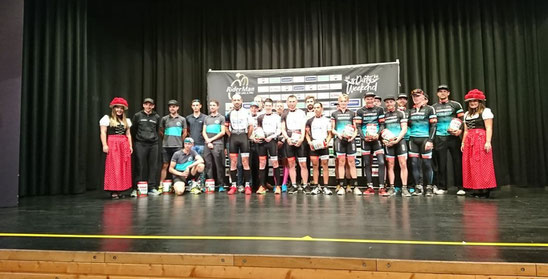 So I finished 9th on the last Stage. Stefan were also in the group and reached the 2th place. Jochen follows in the next group on place 21. But Karsten has not so much luck. With bad legs and a defect on his backwheel he reached the 86th place.
In addition, we won the overall team classification ahead of Leeze-Bieler Cycling Team and Team Strassacker. Happy about our first team win. Now it is time to relaxe and get fit for the last race in the GCC in Münster.