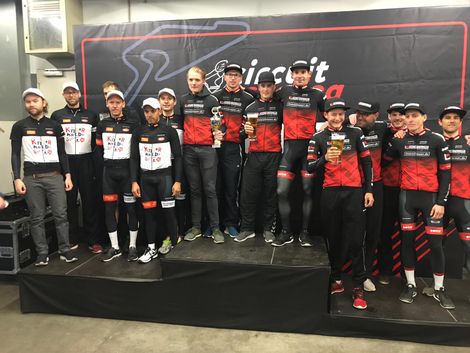 Report from Anthony Spysschaert:
I was really looking forward to this event, the second race of the German Cycling cup. It was a shame that the race was made shorter, because the more distance the more altitudemeters the better for me. I like long and hard races.
18:02 Los! The track was wet and slippery. I didn't take any risks. I lost a lot of places downhill, but I could easily come back to the front uphill. Thanks to the strong headwind uphill, it was difficult to make a Gap. I tried a few times in the beginning but I knew after the 2nd time I should save my energy for the last Rounds. Karsten did a fantastic job putting the pace high and being in the breakaway a few times. The other teams werd getting stressed and they had to close the Gap. He put me in a comfortabel position for the finale. At round 9, Stefan goes all out on the first hill and I see a lot of good riders having difficulties to follow his pace. A lot of riders were on there limit that round. I decided to go all out in round 10. Only Daniel Westmattelmann could follow my pace. We worked together but he was for sure the stronger rider. The last 2 Rounds I had some cramps, then I already knew I was racing for 2nd place. I made the mistake to only drink 2 bottles... Such a shame... In the sprint I had no chance. I Am satisfied with my result and the teameffort.
Thanks!